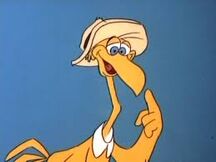 Crazylegs Crane is a 16-episode made-for-television cartoon series produced by DePatie-Freleng Enterprises in 1978 for The All New Pink Panther Show on ABC. This was Crazylegs Crane's first series dedicated solely to him. Previously, he had made regular appearances in the three DePatie-Freleng animated comedies, Tijuana Toads, The Blue Racer and The Dogfather. His personality is similar to the Disney character Goofy. In the German series, this character was known as "Dummvogel", literally "silly bird". In the cartoons that star Crazylegs Crane (voiced by Larry D. Mann), he always goes through various misadventures often accompanied by his son Crazylegs Crane Jr. (voiced by Frank Welker) and often deals with his frenemy a fire-breathing dragonfly (voiced by Frank Welker impersonating Andy Kaufman). Crazylegs Crane previously aired as part of The All-New Pink Panther Show on This TV on Tuesdays and Thursdays at 8:30 AM Eastern time until September 22, 2011. Also, most of the shorts often air as filler material on Boomerang. Some episodes have also appeared on YouTube, Hulu and other online video sites.
Ad blocker interference detected!
Wikia is a free-to-use site that makes money from advertising. We have a modified experience for viewers using ad blockers

Wikia is not accessible if you've made further modifications. Remove the custom ad blocker rule(s) and the page will load as expected.