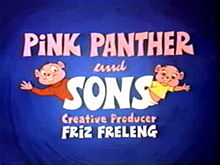 Pink Panther and Sons is an American animated Pink Panther television series produced by Hanna-Barbera Productions and MGM/UA Television. The series was originally broadcast on NBC from 1984 to 1985 and moved toABC in 1986. The original Pink Panther cartoons were produced by DePatie-Freleng Enterprises, but in 1981 the studio was sold to Marvel Comics and renamed Marvel Productions. David H. DePatie and Friz Freleng served as producers for the series. In a new twist to the Pink Panther franchise of theatrical and TV cartoons, the series centers on his two sons: Pinky, a pre-teen, and his brother Panky, a toddler, and their friends in the Rainbow Panthers crew (the pretty Chatta, fighting Rocko, gibbersh-talking Murfel, overalls-wearing Annie, and mixed-up-talking Punkin). Each episode shows the Rainbow Panthers coming together for friendship and fun as they learn all about growing up and caring for each other as they take on the a group of lions called the Howl Angels.
To watch Pink Panther and Sons opening go to: https://www.youtube.com/watch?v=TAmlDW3btUU
Ad blocker interference detected!
Wikia is a free-to-use site that makes money from advertising. We have a modified experience for viewers using ad blockers

Wikia is not accessible if you've made further modifications. Remove the custom ad blocker rule(s) and the page will load as expected.