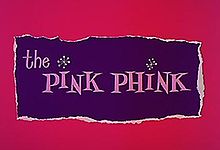 The Pink Phink is a 1964 animated short comedy film, directed by Friz Freleng and Hawley Pratt. It is the first animated short starring Blake Edwards'. The Pink Phink Won an Academy Award for Short Subjects, Cartoons; released with Kiss Me, Stupid. The Pink Panther disagrees with a decorator (The Little Man) over what color a house should be: blue or pink.
Ad blocker interference detected!
Wikia is a free-to-use site that makes money from advertising. We have a modified experience for viewers using ad blockers

Wikia is not accessible if you've made further modifications. Remove the custom ad blocker rule(s) and the page will load as expected.