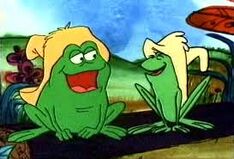 The Tijuana Toads are the main characters in a series of 17 theatrical cartoons produced by DePatie-Freleng and released through United Artists. The series was about two toads, Toro and Pancho, who live in the Mexican city of Tijuana. Throughout the cartoon they try to eat their prey, but always get out-smarted. They would sometimes themselves be targeted by a bird, Crazylegs Crane, and would in turn always out-smart him. The series introduced two characters who later got their own series. The Blue Racer first appeared in "Snake in the Gracias" before getting his own series in 1972. Crazylegs Crane also spun off to his own series for television in 1978 on ABC. Both characters were voiced by Larry D. Mann, except in "Flight to the Finish" where Bob Holt voiced Crazylegs Crane. Toro was voiced by actor Don Diamond and Pancho voiced by Tom Holland. Crazylegs Crane was voiced by Larry D. Mann. Directorial duties were split betweenHawley Pratt, Art Davis, Grant Simmons, and Gerry Chiniquy. When series began airing in 1976 as part of The Pink Panther Show, NBC redubbed Tijuana Toads and renamed it Texas Toads to make the series less offensive.[1]A laugh track was added to the new soundtrack, and the toads were given the new names of Fatso and Banjo.[1] Producer David H. DePatie later commented on the process: "When they (Tijuana Toads) went on television, we had to completely change them around and the series became known as the Texas Toads, and we had to redo all of the tracks that had any type of ethnic content and it really watered down the series down. We all thought it was a hell of a lot more funny when it was the Tijuana Toads, but at the time we had to do it in order to bring the thing on television." The characters were resurrected for the 1993 TV series The Pink Panther. As the case when the original shorts were shown on TV, they were rebranded as The Texas Toads. The toads were redesigned as western sheriffs with over sized cowboy hats replacing their sombreros. As of 2013, there are no plans for a DVD released of the Tijuana Toads. The rights to the films are currently owned by MGM Home Entertainment/20th Century Fox Home Entertainment.
Ad blocker interference detected!
Wikia is a free-to-use site that makes money from advertising. We have a modified experience for viewers using ad blockers

Wikia is not accessible if you've made further modifications. Remove the custom ad blocker rule(s) and the page will load as expected.